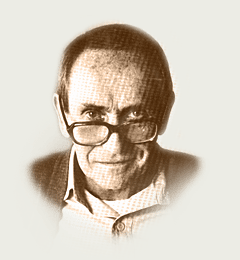 Tadeusz Konwicki
The author of twenty novels, film director and screenwriter (the founder of the "Polish cinema des auteurs") was born in Lithuania in 1926.
Konwicki is the conscience of Polish society and the crazed mirror in which it is reflected. He is one of the writers who have left the most lasting impression on post-war Polish literature and culture. He is regarded as a spokesman for the yearnings, attitudes, hopes and rage of several generations.
From the Besieged City (1956) inaugurates a Vilnius cycle that would include the novels A Hole in the Sky (1959), The Werewolf (1969), A Chronicle of Amorous Incidents (1974) and Bohin (1987). These works, among Konwicki's most beautiful, evoke the region around Vilnius as a land of growing up and of initiation into the sense of life, of learning about love and death, a land where feelings are born and where the reconciliation with existence - a Faustian acceptance of duration - occurs. The portrait of contemporaneity, a sterile region and acid-etched time, is most intense in the cycle of novels that includes A Dreambook for Our Time (1963), Ascension Into Heaven (1967), and Nothing or Nothing (1971). They share an analysis of social memory that contains the evil of wartime and Stalinist evil, as well as the construction of a protagonist who is first unable to accept his own identity because it contains elements of guilt, and then is unable to establish that identity because the way to it is blocked by the lack of a connection between his own person and the present moment around him. That present moment is a vision of a police state in which the population, under constant surveillance, slowly loses its own contours and collapses into a shapeless mass. This image is deepened in the next cycle, which includes the best-known works of literature to be published outside the purview of state censorship: The Polish Complex (1977), A Minor Apocalypse (1979) and Underground River, Underground Birds (1984).
Konwicki's direct engagement in social issues grew steadily after the publication of Nothing or Nothing. This engagement was counter-balanced by a cycle of "lying journals". These constituted non-required writing and were engaged neither in politics nor in literature. They cannot be read either as fiction or as fact, and are diverse in terms of their genres and aesthetics. These works - The Calendar and the Obituary (1976), Rising and Setting of the Moon (1982), Nowy Swiat Street and Vicinity (1986), Northern Lights (1991) and Slander Against Myself (1995) are collections of journal entries and essayistic interludes, fragments of literary works and social indiscretions. Their freedom, charm, wide range of wit and humors make them, like Gombrowicz's Diaries, true literary pearls and frequent objects of imitation.