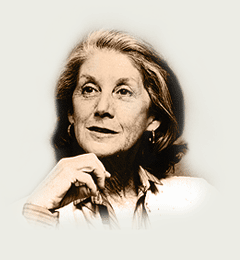 Nadine Gordimer
Born in Springs, South Africa, in 1923. Daughter of Isidore and Nan Gordimer. Has lived all her life, and continues to live, in South Africa. Principal works: 10 novels, including A Guest of Honour, The Conservationist, Burger's Daughter, July's People, A Sport of Nature, My Son's Story and her most recent, The Pickup
10 short story collections, Jump, 1991, and Why Haven't You Written: Selected Stories 1950-1972, published 1992.
Non-fiction: The Essential Gesture; On the Mines; The Black Interpreters.
Among honorary degrees: from Yale, Harvard, Columbia, University of Leuven, Belgium, University of York (England), Universities of Cape Town and the Witwatersrand (South Africa), Cambridge University (England). Commandeur de l'Ordre des Arts et des Lettres (France). Vice-President of International PEN. Executive Member, Congress of South African Writers.