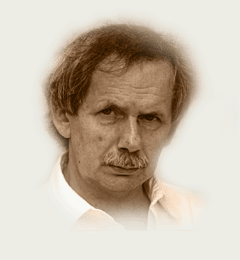 Miloslav Topinka
Truly living in truth, Miloslav Topinka accompanies his poetry, as Gilgamesh possessed by light. The present recipient of the Seifert Prize, he seems drawn to an unknown scale, to an unexplored language, at times undressed by Hölderlin and Novalis, occasionally seen by Pound from his cage in Pisa. "What you look for is near."
Born in Nový Etynk, Czechoslovakia in 1945, he edited "Letters for Literature and Discussion" until it was banned in 1969. Utopia was spared, but The Rat's Nest, his second collection of verse,was destroyed at the printer's in 1970, finally appearing in the early nineties along with Compared to Me, All of You Are Just Poets, a dazzling study of Rimbaud.
"Poetry must be utterly natural like the wind, stars, clouds and grass – indistinguishable – present in everything – frozen, hard, like force lines in a magnetic field bound in star lava."
Crack, his most recent collection of verse, is an initiation path leading to all extremes.
"To touch what is beyond. The flow of speech is reversed, language disappears in the crack of a mouth. It is a sunstroke." 
Miloslav Topinka lives in Prague.