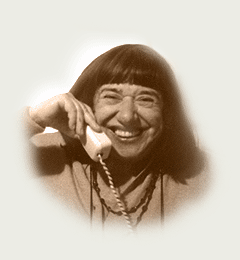 Katerina Anghelaki - Rooke
Katerina Anghelaki-Rooke was born in Athens in 1939. She studied foreign languages and literature at the universities of Athens, Nice and Geneva. Since 1963 she has published many volumes of poetry, including The Body Is the Victory And the Defeat of Dreams, The Scattered Papers of Penelope, Beings and Things of Their Own and From Purple into the Night. She was awarded the National Prize for Poetry in 1985, and her collected poems were published in 1998.
Katerina Anghelaki-Rooke lives in Athens.

Last modification of this page: 22nd December 2003 15:46